Eyebrow Microblading, Lamination, Eyelash Lifts
Natasha Stokes
2021-03-11
I am never disappointed with my brows or my experience with Iveta, she is the best!
Attn ladies 40 and over - If you haven't had this micro blading /powder brow procedure, do it now! We are at an age where we are more sensitive about our skin, hair, appearance, etc. This procedure took years off of my face! This took the stern look that comes with age off of my face! This opened my eye area and highlighted my eyes just as a brow lift would have, but was much more economical and there was no recovery, and honestly, no pain. Iveta is an artist and a perfectionist. She did a fantastic job on my brows. She spent as much time as it took for both of us to agree on perfection. She deserves much more than she charges. This is your face! Don't let just anyone put something permanent on your face! I drove 5 hours for my appointment with Iveta, and her work was worth every minute I spent on the road. I highly recommend Iveta. I'm so glad she was recommended to me. No one else will ever touch my brows! Thank you Iveta!!! You're amazing!!!
I would not trust my brows to anyone except Iveta. She is simply the best. I'm in love with my brows now and I save a ton of time getting ready because they require zero maintenance. Highly recommend!
I researched for months prior to getting microblading. After talking with Iveta about my questions and concerns, I felt immediately comfortable in choosing her. It was the best decision I've ever made, I feel more confident everyday because of it (and when its your face, dont spare the quality of the cost). Iveta made sure I got what I wanted but also had a professional opinion from her experience to help guide you in picking the right combination in shape, color and naturalness. The procedure itself was so easy and not painful at all (eyebrow threading is so much worse and I usually get that done monthly) and as explained, the recovery process was fast and simple. I just wish I did it sooner and with Iveta's talent don't hesitate, she makes you look and feel amazing! I can't wait to get my touch up and continue with this transformation to see what these brows can do in the hands of Iveta!
Iveta thank you so much for your detailed work. My combo brows are now healed and look great! Thank you for being so patient with me and making my brow experience a great one!!!
Amazing experience and amazing results. So glad I made the decision to see Iveta!
Iveta transformed my untouched eyebrows into perfectly shaped eyebrows! I love the modern update to my brows. Iveta was so kind, professional and honestly such an expert with eyebrow shaping. Her beautiful space was very clean and calming. The entire experience was relaxing and had me feeling confident! I can't wait for my next appointment!
Casey McDonough
2020-11-10
I was SO nervous to have my eyebrows done, but after months of researching, I found Iveta. Her building is clean with sterile equipment, she made me feel very comfortable and we spent a lot of time on my brow shape before starting. I had micro blading and powder done and my eyebrows have never looked better. I wake up every morning so happy - best decision ever.
Iveta is the absolute best! I would never trust anyone else with my eyebrows. She has always made me feel extremely comfortable and is always so knowledgeable and professional. Her space is always extremely relaxing and clean. She is a true perfectionist and I never have a doubt in my mind that my eyebrows will be anything but perfect. She truly is amazing. You won't regret using her!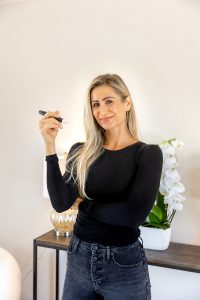 An accomplished make-up artist and licensed Skin Care Specialist since 2004, Iveta has be-come the region's leading eyebrow specialist since she opened her own studio in 2016. She consistently earns 5-Star customer reviews for her artistry and professionalism. In her immaculate, serene white-on-white studio, conveniently located near downtown, Iveta focuses on Microblading, Ombre Brows, Brow Lamination and Lash Lift.